Welcome to Hall & Son Pump Company
Since 1940 this family owned & operated company has served Clark, Cowlitz, and Skamania counties. We specialize in the installation and maintenance of domestic well systems. We also carry pumps, pressure tanks, fittings and much more at our shop located in Brush Prairie, WA. Our knowledgeable staff can assist you with your questions.
Family owned and operated since 1940 - Celebrating over 75 years!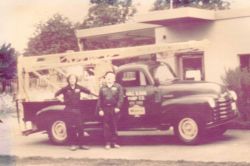 Richard and Leland Hall
This photo of current owner/operator, Richard Hall and his dad, Leland, was taken in approximately 1972. It showcases their first pump truck which is still a (mostly decorative) part of our fleet today!